Check out this great full-band interview with Altcorner: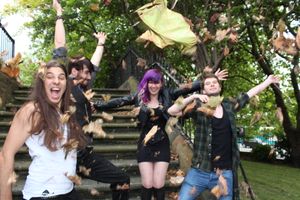 "...Craziest thing you have experiences whilst being in the band? 
Kitty: We once played a biker club in the middle of nowhere, got beyond drunk and camped out in the middle of November, with no warm clothes. We all shared an inflatable bed and Torben kicked everyone. 
Torben: We even slept under a duvet lent by the drummer from Showaddywaddy. 
Also, when we were filming our music video for Fight The Horde!!!, pretty much everyone involved got injured by rusty spikes and bits of metal from the big warehouse we rented out. John ripped the skin off his knee and I had a giant gash in my arm. I'm glad my tetanus jabs are up to date! It was worth it though, the video was so much fun to film and I love the finished product...."

[Click here] to read more.