The entire band had a great in-depth interview Music Crowns about artwork, inspirations and gigging highlights.[Pre-order] Black Syrup RIGHT NOW
"...How did the EP artwork for 'Black Syrup' come together, and what does it mean to you?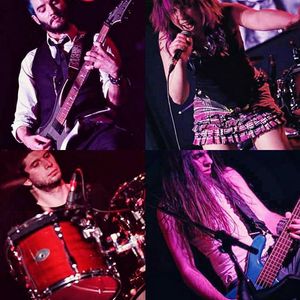 Jonyx: For me, 'Black Syrup' conjures up images of sexy black latex and freak show themes, so I wanted to create artwork to reflect that. The artwork of Batman was a big influence in style, particularly the animated series and comic books. After trying a few colour schemes, I loved the contrast between the green and purple, it gives a nice toxic feel and is very eye-catching. 
What do you want 'Black Syrup' to do for the representation of Novacrow? 
Kitty: We've deliberately picked a solid set of really diverse songs, so listeners can get a good indication of what the band is about and try and capture the (delicious) flavour of our live shows. There's heavy riffs, juicy harmonies, fat choruses and a kazoo, what more could you ask for? 
Federico: It's gonna show people that we're not just a bunch of amazingly good looking individuals, we're also a bunch of amazingly good SOUNDING individuals..."
[Click here] to read more
Images (right): sue@music224 
All image in interview: www.82photography.com