Kitty spoke to Toxic Online about Novacrow life, kazoos and what to expect in 2016...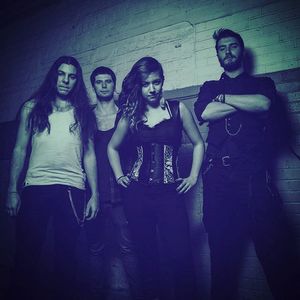 "What can you tell us about your latest material? 
We've got our "sextacular" debut EP coming out on March the 12th and each of the tracks are very different, so it gives a good flavour of what the band is about. Black Syrup is a sleazy burlesque inspired number, Fat Frog is a big stomping track for heavy drinking, whilst Set in Stone and Colourless are both more crisp and melodic. Fight The Horde!!! is about zombies and the lyrics were inspired by the game The Last of Us. We filmed a super cheesy zombie music video to go with it too, which was extremely fun and illustrates our fantastic (terrible) acting skills. The awesome comic-book style artwork, done by our guitarist Jonyx, encapsulates the sort of fun, horror-inspired, zombie babe-enticing vibe that we're going for. 
What has the writing process been like for your latest release? 
With all of the tracks on our EP, I initially wrote the melodies, guitar parts, lyrics and the structure, then we've added to the songs as a band. Once you start playing the track live, bits will inevitably end up changing. Some things just happen by magic though, like the kazoo solo...."

Click here to read more

Image: 82 Photography