A fantastic review of Fight The Horde!!! from Toxic Online:
Click here to buy the tracks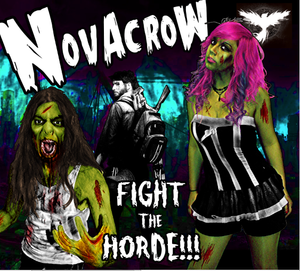 "There's only once place to start with this review of 
Fight the Horde!!
: That. Opening. Riff. Holy moly, what a stunning hook. It's a blinding piece of guitar work that sets up a true, sleazy hard rock anthem centred around – you guessed it – the zombie apocalypse. Kitty Staunton's gritty vocals are well complimented by the backing roars of bassist Federico Spera whilst guitarist Jonyx and drummer Torben John Plumstead Schmidt-Hansen keep the song driving forward at all times. The production – also done by Spera – is first class, giving the song a huge sound and they've even used radio samples within the song as well to give it more of a sonic punch. For a band to be achieving such a standard in a little under 18 months is staggering. As for 'The Mantra', it's a lot slower in tempo and is more intricate in places, but it still packs a lot of weight behind it and is a nice contrast to the mayhem of 
Fight the Horde!!. 
Give us the rest of the EP already!!"
http://toxiconline.co.uk/unsigned-fight-the-horde-novacrow-single-review/