An amazing review from our zombie-filled show at LIPA's Paul McCartney Auditorium, by Ian D Hall: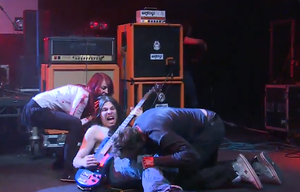 "If every song needs a hook in which to guide it to the listener's emotions then does it follow that every live performance needs something other than the music to really make it memorable? It either depends on how the sound is appreciated, a folk band for example certainly don't need the extra polish attached their gig, neither does a solo performer serenading with almost perfect ease, and yet in some quarters, what is already rather enjoyable, even tremendous in some places has that little something extra with the visual memento mori attached.
For Novacrow, the aural appreciation is enhanced by the nods to the likes of Alice Cooper, Tankard, Megadeth and even the appearance of the most eligible bachelor in Rock, Iron Maiden's Eddie T. Head. At one point in the set, Zombies appear on stage and in the middle of the Sir Paul McCartney Auditorium, the same creatures of morbid fascination dance with slavish glee; the band don't need it but it certainly adds to the attraction.
What really catches the eye is yet another addition to annals of Rock from the West Midlands, the natural home of the genre, the impressive Kitty Staunton on guitar and vocals, a woman whose stature is only dwarfed by her ability to wield both machines of war with precision and grace. The West Midlands has such a long affinity with the genre that it somehow comes as a surprise when someone new from within its borders steals the day's thoughts.
Remarkably the same confident demeanour could be seen to reflect of that of the Queen of British Blues, Joanne Shaw Taylor at the same sort of age, if this is to be continued then fans of the Midland's Rock are in for the same treat as they saw Ms. Shaw Taylor grow and progress over the fifteen years.
Novacrow performed admirably, with dedication to the audience's needs and to the sounds all encompassing future wealth. It was a set of songs that combined to raise the spirits and gladden the heart but all the while punching back hard and swift at a system raised to ignore such talent.
With songs such as White Lies and Cigarettes, Black Syrup, The Mantra, the superb Fight The Horde and Fat Frog all raising Hell with charm and guile, Novacrow are a band in which to look out for, a band in which to really relish grasping hold of and making sure they go all the way."